Listen in on last week's Checking on the Arts segment with Memphis Artist N. J. Woods and WKNO FM's Kacky Walton.  N. J. and Tom Clifton joined Kacky for her segment on Wednesday, October 1.  They discuss how her fond memories of childhood influence her paintings.
N. J. Woods is a recognized folk art artist who garners praise for her work being similar to Carroll Cloar. If you are seeking an important addition to your art collection, consider Memphis artist N. J. Woods.  
You can see her recent works at our Memphis Art Gallery located in the Broad Avenue Arts District.  Support local!  Shop local!
Also, remember we specialize in custom framing.  Choose your favorite acrylic painting on paper by N. J., and let us frame it!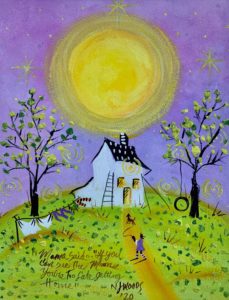 Want to virtual tour of our current exhibit of N. J.'s work?  Click here>
We are open for browsing Thursday – Saturday, 11a – 3p.  Private appointments are encouraged for other days of the week.
Want to listen to Memphis artist N. J. Woods' interview?  Click below.  (appx 17 min.)