Ready to refresh your home?  Adding a custom mirror is a great trick.  Consider upgrading the mirrors in your master bath, guest bath, or entry.
Call us or drop by the gallery.  We will identify several moulding options depending on your interests and budget.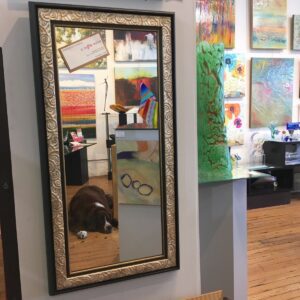 You may take the mouldings home with you to see how they look in your light.  Or, we can come out and review the options and measure for your custom mirrors.  We will even arrange for the installation!
Want to know more?  Visit our web page on custom mirrors (https://tcliftonart.com.customers.tigertech.net/custom-mirrors/) and then come visit our framing gallery, located conveniently in the Broad Avenue Arts District.